>> Sunday, December 25, 2005
[1]Abah, Mama, Zaki The Invader, and Ustaz Al-Hafiz Ubaidillah (but also a gamer, huh?) came to the house on Friday. They slept over at our small apartment. Ah, pity them. Have to sleep on the floor. Wait till we kaya OK?

Then on Saturday, me and the kid's slept over at Ayah Chik's. 'Tis the reason I had to change my flight. Apparently MIL had informed my dear husband about the wedding, but somehow he just didn't register it in his head. Bet he had too much tabligh stuff in there :P

Anyway, Ayah Chik's new bungalow is awesome. In total, it has 9 rooms. Wonder why they didn't make it 10 :P

Actually, what impressed me is the wall paper. You know, the golden embosed stuff? Ggrr... very the tak aci hehehe.

People kept on asking me where's my husband, and I actually didn't know what to say. I just say, he's outstation. Ayoyo susah juge mao jadik bini mat tabligh hoho. Takkan la nak explain panjang lebar kot kat everybody?

He saved the day by coming very early in the morning for the kenduri.

Before Zuhur, we left and he dumped, I mean, ferried me home. Then off he went to continue his tabligh thingy. The kids and me had the apartment for ourselves. Yezzaa.....

Munching snacks, watching tv, sleeping, playing puzzles, more sleeping and munching and tv... syioknya!!!

Funny that I found Ailin, my srikandi friend, [she reads my blog too!] at the wedding. Such a small world hehe. She doesn't change a lot, except for the dimension and weight hehe jangan marah haaa Ailin, aku pon sama. And, she looks cuter when she dons the tudung back at school :)

[2]His identity is finally revealed.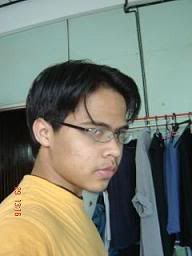 The Invader
Sapa suruh letak gambar lu dalam ini komputer. Kan dah kena sabotaj hehe.
[3]Tommorrow I'll be invading K.Ina's house in Shah Alam for lunch and family meeting, and then off I go to KLIA to catch my night flight.
Bye bye Mat Tabligh. We're gonna miss you sroot sroot.
:tapi ada tanduk sudah keluar muahahahah: