>> Sunday, May 15, 2005
The good thing about IKEA is that you can mix and match to create your own furniture.

On friday, Aini asked me about the shelves that I have in the master bedroom.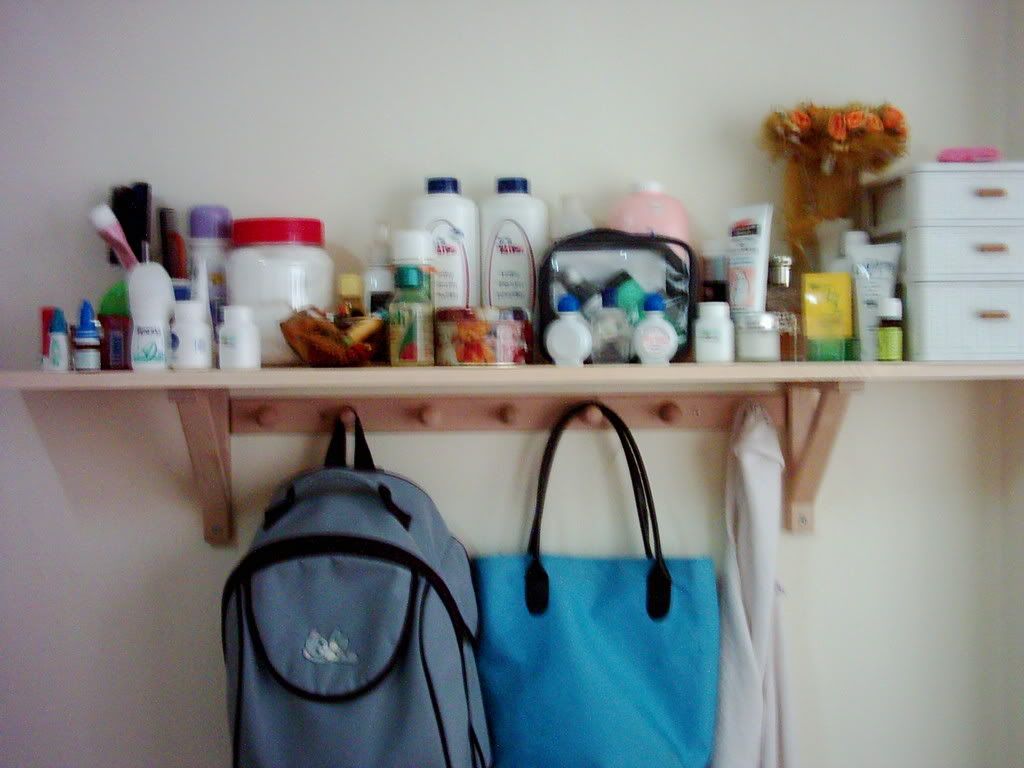 Aini had first thought that I bought the whole thing at one piece. Actually, I had combined the shelve with a cloth hanger to expand its functionality.

So, if you would want to have something like this for your house, you need to buy a wood plank, two or three brackets (depending on how long your wood plank and the weight of the things you want to put on the shelves), and a cloth hanger.

To install the shelve on the wall, two people is needed for the job. Firstly, attach the brackets to the wood plank. Make sure that the space between the brackets is sufficient for the cloth hanger. Secure the shelve and then, the cloth hanger onto the wall.

Yay, your shelve is done!

Take note that your cement wall can't hold screws, so you need to put I-don't-know-what's-the-name-but-it's-a-piece-of-wood-that-will-fit-into-the-drilled-hole before you srew. You could also use plastic casing. I never knew this fact until Mat Tabligh told me.

Well, he sure did surprised me with his DIY knowledge.

Anyway, I'm still waiting for him to install the rail for the kitchen.

Oh, the cost is very cheap. As far as I can remember, I bought those for:
Wood plank: RM19.90
Brackets: RM7.90 each
Cloth hanger: RM16.00
So in total, you'll spend about RM50+. Compared that to RM128.00 one-piece shelve, (also at IKEA and Mat Tabligh had been urging me to buy; luckily my stingy self had a better idea hemo hemo hemo) that has the same functions as the one I've installed. Furthermore, that one-piece shelve does not go with the house theme.

OK, yeah.. so the old green curtain does not go with cream and pink theme in the bedroom :P I'll send the new pink curtain to tailor next Monday. Ke Aini nak tolong jahitkan?

p/s: Sorry to Aini for 'lunyai'ing her IKEA catalogue hemo hemo hemo.